Massage at
Buchar Family Chiropractic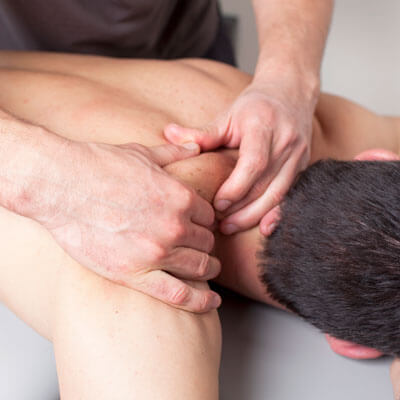 Massage can be a helpful tool before your chiropractic appointment. When our patients are not taking well to adjustments or suffering from acute pain, massage can help the body prepare to be manipulated in a way that supports better results.
Preparing for a
chiroporactic adjustment
with massage can help improve the effects of your adjustment, extend your results, and support your overall health and wellness.
Our Philosophy
Our philosophy is to meet our patients where they are and let them set the pace. Because our sessions deal with pain and chronic issues, we often start small and work up from there. We listen to how the body responds when we start to work on it and look for the small cues that tell us what kind of work the patient's pain level will allow. Breathing mindfully and practicing patience are important tools when receiving therapeutic massage.
Massage is something best done on a regular basis, not necessarily for luxury purposes or for relaxation, but as a maintenance technique to improve your overall health. Regular therapy sessions allow your body to work more efficiently in a way that is sustainable into your future. Although it can take anywhere from a single session to a longer series of sessions to feel better, it really depends on your body, your issues, and the corrective actions you've already taken to resolve your symptoms.
At Buchar Family Chiropractic we offer pre-adjustment massage as well as massage as a stand-alone service. We offer 15, 30, and 50-minute customizable sessions focused on your needs. Our practice is devoted to therapeutic, results oriented massage.
Our dedicated massage therapist has over 24 years of experience and is skilled in techniques across the board. Whether you choose a single massage session, a regular series, or a simple pre-adjustment 15-minute service, we can meet your needs with expertise and education.
In addition to therapeutic massage, our therapy services include cupping, myofascial release, and more. We tailor your session to your individual needs and are always here to answer your questions about new and different techniques.
Your massage doesn't end when your session does. It's important to follow your instructions for post-massage stretches, exercises, and lifestyle changes. Your massage therapist will list out specific recommendations tailored to your needs and unique condition.
Reach Out Today
There is always a reason we experience pain or dysfunction. Our goal is to determine the source, and then make it better. Whether you've had pain for a few days or a lifelong chronic issue, it can create unnecessary stress in your life and cause you to miss out on the quality of life you deserve.
We want to help you restore your ability to live your best life. Make an appointment with our highly experienced masseuse today!
CONTACT US »

Massage Aurora, Naperville IL | Buchar Family Chiropractic