Sample more than 300 wines from around the globe!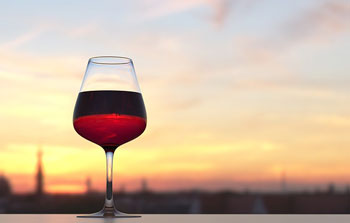 To toast the many health benefits of vino, we are proud to be a sponsor of the Naperville Wine Festival, which will be held Friday, August 12, from 5 p.m. to 10 p.m. and Saturday, August 13, from 5 p.m. to 10 p.m. at CityGate Centre.
An adult wine tasting ticket is $32 in advance or $40 at the door. The ticket is good for either day and includes the following: 12 tastings, a souvenir wine glass, one pint of any beer that's available at the festival, food and wine seminars, plus live music performed on the festival stage. The ticket also grants you the ability to buy wine at a discount.
Enjoy enlightening wine seminars and cooking demonstrations. And because no celebration would be complete without food, you can purchase delicious signature dishes from some of the area's top restaurants and caterers.
Imbibe Wine and Wellness
In addition to pairing nicely with a variety of delectable dishes, wine boasts a variety of health benefits:
Promotes Longevity. The Evidence: Wine drinkers have a 34 percent lower mortality rate than beer or spirits drinkers.
Reduces Heart Attack Risk. The Evidence: Moderate drinkers suffering from high blood pressure are 30 percent less likely to have a heart attack than nondrinkers.
Lowers Risk of Heart Disease. The Evidence: Red wine tannins contain procyanidins, which protect against heart disease.
Reduces Risk of Type 2 Diabetes. The Evidence: Moderate drinkers have 30 percent less risk than nondrinkers of developing type 2 diabetes.
Stop by for a Massage
We encourage you to stop by our booth to get more information about wellness and our Naperville chiropractors. You also can get a trigger point massage to untie those knots and ease muscle tension.
Please note that the festival will be held rain or shine so mark your calendars and get ready to sniff, swish and swirl! For more information go to the festival website.